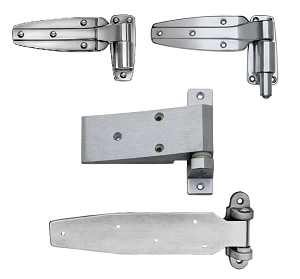 Walk-in cooler refrigerator & freezer door hinges
The perfect hinges for your walk-in box. Kason's most popular walk-in hinges are the 1245, 1248, 1255, 1256, 1074, 1277 made for walk-in refrigerators, freezers and coolers.
With our always in stock guarantee!
You can have the hinge you need when you need it at a discount. Kason is the leading manufacturer of walk-in style door hinges in the industry. Kason's most popular are the 1245 & 1248 cam lift hinges. The 1037 & 1055 brass hinges are a great solution for outdoor use. No matter what your hinge needs are we have them at a discount.
ALWAYS IN STOCK ITEMS ARE
Kason 1245 Door hinge cam lift self-closing
Kason 1248 Door hinge Spring assisted cam lift
Kason 1246 Door hinge Cam lift
Kason 1249 Door hinge Cam lift
Kason 1255 Door hinge Cam lift reversible
Kason 1256 Door hinge self-closing
Kason 1255 & 1256 spring kit
Kason walk-in brass hinges
Kason strap style hinges