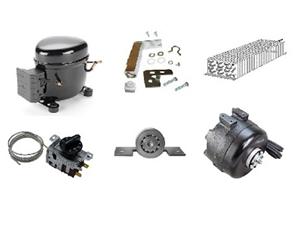 Refrigerator freezer parts intended for True Equip.
We provide OEM and NON-OEM True Refrigerator, freezer and refrigerated cooler equipment replacement parts, all intended for use on True refrigerated equipment. Save on energy cost and extend product life by replacing a broken or sagging door hinge or a bad thermostat. With our always in stock guarantee you'll be able to find and have your parts shipped same day. Why wait? Buy today and have your parts in 1-4 days. Don't see the part you need no worries give us a call 888-289-5911 or email us
sales
Parts for the following True equipment types
Reach-in refrigerator freezers
Work top refrigerators
Glass door merchandisers
Back bar coolers
Bar equipment
Sandwich prep stations
ONLY those parts identified as manufactured by True Manufacturing are OEM parts. Certain parts are not OEM products, and are not manufactured, licensed, authorized, or sold by True Manufacturing. OEM Numbers and Commonly Fits Models are used for reference only and no inference or implication beyond that should be taken or is intended. Non-OEM replacement parts are not manufactured, licensed, authorized, sponsored or endorsed by True Manufacturing.