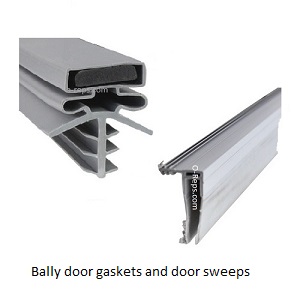 Bally walk-in cooler door gaskets and door sweeps. After opening and closing your cooler door many times a day your door gasket seals and sweeps will wear out or become cracked and brittle resulting in loss of temperature within your cooler box. To help maintain an adequate temperature replacing worn gaskets and sweeps can be an easy and relatively inexpressive way to solve the issue.
NOTE: For best installation results
(1) submerge gasket in warm water 160° to soften the materiel before installing
(2) start in corners, install gasket and tape door closed
(3) let gasket form to door & cool.