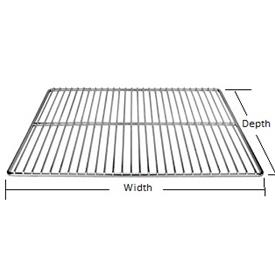 WIRE SHELVES custom made to order
You can NOW order standard style wire shelves online. Wire shelves for commercial Refrigerator and Freezer equipment Custom made. We specialize in custom made wire shelves to OEM spec's made to the dimension you need in four finishes zinc, white or grey Epoxy coated, Chrome and Stainless Steel. Ordering custom wire shelves made to the size & thickness of the frame you specify. Whether your looking for a shelf for acidic foods or for something to hold the weight of your canned and bottled product we can get it done. You can order your custom made refrigerator wire shelf online or give us a call. We offer a short lead time of 3 to 4 weeks!
To place an order
First determine your square inches by measuring and multipying width X length
Find your corresponding square inches below 200 sq in, 400 sq in, 500 sq in, 650 sq in
Select the frame size 3/8" or 5/16"
Select the finish desired and place order
Any shelf over 650 square inches please call for pricing
NOTE: Custom made shelves are a non refundable item all sales are final